100% Certified Organic NZ Ingredients
Here at Best Bones Broth, we source the Best, New Zealand, Certified Organic ingredients to bring you the highest quality Bone Broth possible. We use grass fed, organic beef and free-range organic chicken as well as wild and sustainably caught NZ snapper.
We're all about Gut Health and it shows in our gelatinous, collagen-rich broths. Clean and fresh with no added preservatives, salt, or other nasties. 
Try our unique, freeze-dried, 100% pure Organic Chicken Bone Broth Powder. With 30 servings per pack it's never been cheaper to enjoy the benefits of organic bone broth.
100% Organic Bone Broth
All natural, New Zealand made bone broth using 100% certified organic ingredients. 
It's bone broth in its purest form - no added flavours, fillers or preservatives.
Shop Now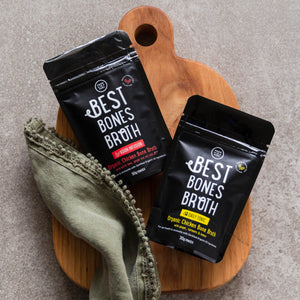 Flavour Packed Culinary Blends
Crafted with precision to serve our health and wellbeing. Containing prebiotic fibre for a healthy and happy gut.
Enjoy them as your daily cup of hot broth or sprinkle into tonights dinner.
Shop Now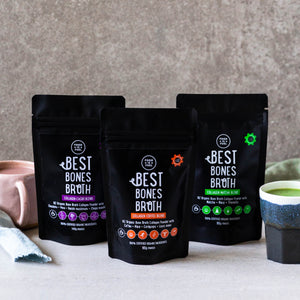 Wholefood Collagen Drinks
Delicious functional blends packed full of wholefood collagen, naturally extracted from NZ organic ingredients. 
Start or end the day with a creamy cuppa.
Shop Now
Testimonials
I am so grateful that you had the inspiration, knowledge, creativity & drive to produce & market such an outstanding organic health product in NZ.

TONI
Just wanted to say our 6 month old baby looooves your bone broth. We've mixed it with all his veges- and it makes the best tasting baby food!

SOPHIE
Your bone broth is superior to others online. Thank you. When we run out of time to make our own it's great to have an alternative that's so tasty

DEANNE
The Organic Chicken Powder was absolutely comforting and delicious. So handy too. Thank you for making such an awesome product available.  :)

GWENDOLYN
It is great to know that the ingredient is sourced from certified organic chicken farm in NZ. The powder is awesome and delicious. I drink it everyday (sometimes I add some grated ginger/seaweeds/sesame seeds) especially during winter to boost my immune system. I take it everywhere with me (work & holiday).

IRENE
From a family suffering with both food intolerances and allergies it feels so good to know we are able to use this super food and support our gut health on a daily basis - our go to in all our cooking, even in the kids smoothies!! And now as a first food for our 6 month old..

LISA
The best chicken bone broth powder! Love that it's organic and 100% pure!

Ra
I totally recomend this product, - the taste is great, its easy and convienient, can add a teaspoon of Miso to it for a bit more good gut vibes, and it is beautifully warming on these cold winter days.

TONI
Their broth powder is the most concentrated you'll find with more collagen and overall protein than others per serve with no added preservatives. This is a must have!
Thanks for standing true to your values and not compromising on the ingredients team!

SAM
Why Organic Is Important
We use 100% Certified Organic NZ ingredients to deliver you the BEST quality broths possible. By purchasing organic you are reducing your exposure to hormones, antibiotics, toxins, pesticides and other nasty chemicals while also considering animal welfare and our environment.
Organic foods are also known through research to have Higher Quality, be more Nutrient Dense and have Superior Nutrition overall!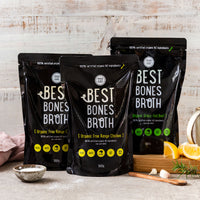 About Our Bone Broth
Here at Best Bones Broth, we source the BEST local Certified Organic bones and use Certified Organic NZ Apple Cider Vinegar to draw out all the goodness to make a nourishing and wholesome broth. 
We handcraft our broth in small batches retaining all the nutrients. Our broth is always gelatinous so you know you are getting the good stuff! We choose not to add anything to our broths because we think the flavour from the bones speaks for itself, and it makes it ideal for a variety of uses and better for people with certain dietary requirements. Learn a little more about us here.